Станете social media guru и врвен дигитален маркетер со новaта посебно дизајнирана обука на М6 Едукативниот Центар. Од теорија до практична
примена, ние ви овозможуваме едноставен, но сигурен влез во светот на дигиталниот маркетинг.
Во модулот за Дигитален Маркетинг на М6 е дефиниран на начин на кој посетителите имаат ДИРЕКТЕН контакт со потенцијалните работодавачи на кои
им се потребни кадри кои ги поседуваат соодветните вештини. Учесниците на обуката ќе имаат можност да развиваат стратегии и да применуваат
тактики за реализација на кампањи за реални компании од државата и регионот.
Обуката ќе биде предводена од експерти во полето, чии што компании имаат работено на успешни кампањи за моќни клиенти како: The Coca-Cola
Company, А1 Македонија, Heineken, Скопско, Pandorа, L'Oreal, Тиквеш, USAID, Porche Macedonia, Алкалоид, Halkbank и слично.
Ангажирани се експерти од пракса и врвни професионалци во полето на дигиталнот маркетинг кои ќе им го овозможат најтемелно, како и реалистично образование на учесниците. Голем фокус во програмата се става на практичната примена на изучените вештини, што е водечкиот концепт зад целиот дизајн, како и селекцијата на тимот инструктори.
Елена Младеновска Јеленковиќ
CEO of M6 E.C.
Илијана Петровска
Head of Training and Development and Associate Professor at Stenden University Qatar
Иван Димитров
Head of Digital, McCann Skopje
Софија Семенпеева
Founder and CEO at Effectiva Marketing Agency
Ана Зафирова
Communications and PR Specialist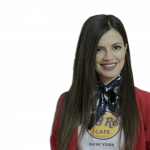 Симона Николоска
Web Developer and SEO Engineer at New Moment New Ideas Company
Емилија Ќипроска
Graphic Designer at Effectiva Marketing Agency
Ирена Златанска
Digital Advertising Manager, UM Skopje