| Why learn Business skills for IT professionals in M6 Educational Centre?
In modern companies, IT is not only a support function, but also a highly strategic role and enabler of many business processes. Additionally, the number of IT companies that have been operating on our local and international market is rising, with IT professionals being faced with processes and roles that are out of the scope of their technical knowledge, but delve into the fields of strategic thinking, project management, HR, and communication skills, as well as finance management.
"TechBiz Edge: Empowering IT Professionals with Business Acumen" program aims to bridge the gap between technology and business excellence through several modules dedicated to different areas that will help those working in IT to be one of the main pillars in achieving a company's success. The program is designed as a blend of theoretical and practical knowledge, where the participants will have the opportunity to apply the newly acquired skills in practice.
Whether you are in the IT department of a company or work in a specialized IT company, whether you are new to the Tech and IT world or have already been working for some time, then this program will help you develop additional set of skills for better business results. 
The participants will work in teams on a real or simulated business project and will have the opportunity to present it and receive feedback from their program colleagues and the trainers.
Module 1
Business fundamentals
Understanding the business landscape-Project management or OO
Understanding the need for IT solutions – analysis of the potential, client analysis…( Identifying opportunities, Analyzing the competition, Understanding clients' needs)
Approach to developing solutions for modern businesses
The importance of aligning IT with business goals
Strategic Thinking
Long-term planning and road-mapping
Business strategy for IT companies and Business planning
Leveraging data for strategic decision making
Understanding key performance indicators (KPIs)-business planning KPI's, sales
Financial Literacy 
Reading and interpreting financial statements
Forecasting and cost control/cost estimation
ROI calculations for IT projects
Budgeting – why do you need to know how to budget – for projects, for teams, …
Cost-benefit analysis
Company's and personal Taxes
Module 2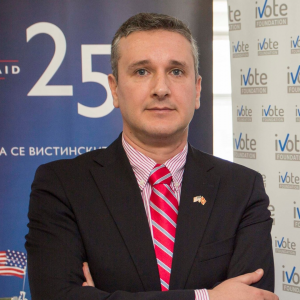 Goce Armenski is a seasoned Software Architect with a PhD and over 10 years of experience in ICT. Specializing in web technologies and EU-funded projects, he has extensive expertise in ASP (.NET), database systems, and e-learning solutions.
Ana Jankulovska brings a diverse range of skills, honed over two decades, spanning Human Resources, Operations, and Sales. Her most recent venture is as Creator at Leaders Land for the last 5 months, focusing on team and leadership development.
Iskra Trajkoska, with over a decade of experience in Human Resources, this professional has served in key managerial roles across various companies, including Damilah and Intertec.io. Specializing in HR strategy, recruitment, and training, they have also lectured at Semos Education's HR Academy.
Ivana Gladkova – Experienced Advisor with a demonstrated history of working in the banking industry. Skilled in Negotiation, Business Planning, Analytical Skills, Monetary Economics, and Customer Relationship Management (CRM). 
Monika Rizvoska – Employer Branding Consultant | Women in Tech Ambassador | Passionate about building communities, startups, and innovation. Her mission is to empower women in tech globally, as she strongly believes in the power of technology to improve lives and communities.
IT professionals within companies or specialized IT firms.

Suitable for both newcomers and experienced IT experts.

Ideal for those seeking to broaden their skills beyond technical expertise.
Comprehensive understanding of business fundamentals.

Enhanced strategic thinking capabilities.

Improved leadership and communication skills.

Practical experience in team management and client communication.

Ability to contribute significantly to organizational success.
Register at info@m6.edu.mk