| Зошто да учите дигитален маркетинг во м6
Become a social media guru and a savvy digital marketeer with the training in Digital Marketing. You will have the chance to learn from experienced professionals who work on daily basis with big clients like Coca-Cola Company, A1 Macedonia, Heineken, Skopsko, Pandora, L'Oreal, Porsche Macedonia, Alkaloid and discover their best practices on the local and international market. The participants will also have an opportunity to work directly with people working in the digital marketing industry who are searching for potential employees. Working language is Macedonian, but in case there are foreign participants the program can be taught in English as well.
Станете Social media guru и врвен дигитален маркетер со новaта посебно дизајнирана обука на М6 Едукативниот Центар. Од теорија до практична примена, ние ви овозможуваме едноставен, но сигурен влез во светот на дигиталниот маркетинг.
Обуката за Дигитален Маркетинг на М6 е дефинирана на начин на кој посетителите имаат ДИРЕКТЕН контакт со потенцијалните работодавачи на кои им се потребни кадри кои ги поседуваат соодветните вештини. Учесниците на обуката ќе имаат можност да развиваат стратегии и да применуваат тактики за реализација на кампањи за реални компании од државата и регионот.
Обуката ќе биде предводена од експерти во полето, чии што компании имаат работено на успешни кампањи за моќни клиенти како: The Coca-Cola Company, А1 Македонија, Heineken, Скопско, Pandorа, L'Oreal, Тиквеш, USAID, Porsche Macedonia, Алкалоид, Halkbank, Fashion Group и др.
| Разгледајте ја програмата:
ЗА КОГО Е 
НАМЕНЕТ  
ТРЕНИНГОТ ?
За тукушто дипломирани лица кои сакаат да стекнат дополнително знаење и вештини кои ќе им помогнат во наоѓање на добро платено работно место

За оние кои сакаат да се ре-квалификуваат или доквалификуваат во областа на дигитален маркетинг

За оние кои сакаат да работат од дома (free lance) за домашни и интернационални клиенти

За млади претприемачи кои сакаат да стекнат суштинско знаење за креирање и имплементација на дигитална маркетинг стратегија

За сопственици на Веб страни кои сакаат да ја подобрат својата продажба и веб сообраќај
| Запознајте ги предавачите
Ангажирани се експерти од пракса и врвни професионалци во полето на дигиталниот маркетинг, кои ќе им овозможат најтемелно, како и реалистично образование на учесниците.
| Искуства и исполнети очекувања
Прочитајте што мислат нашите клиенти за професионалниот тренинг – Дигитален Маркетинг.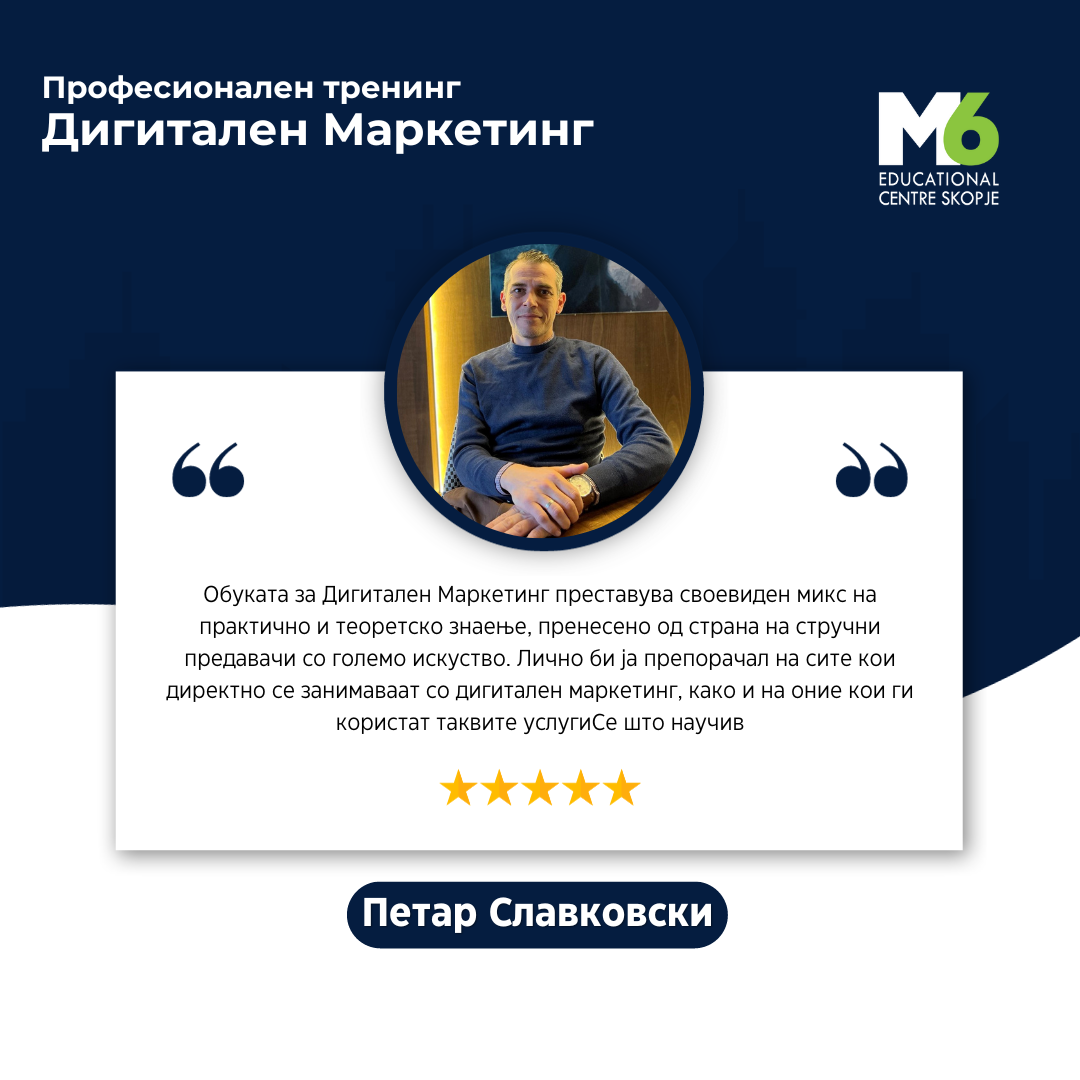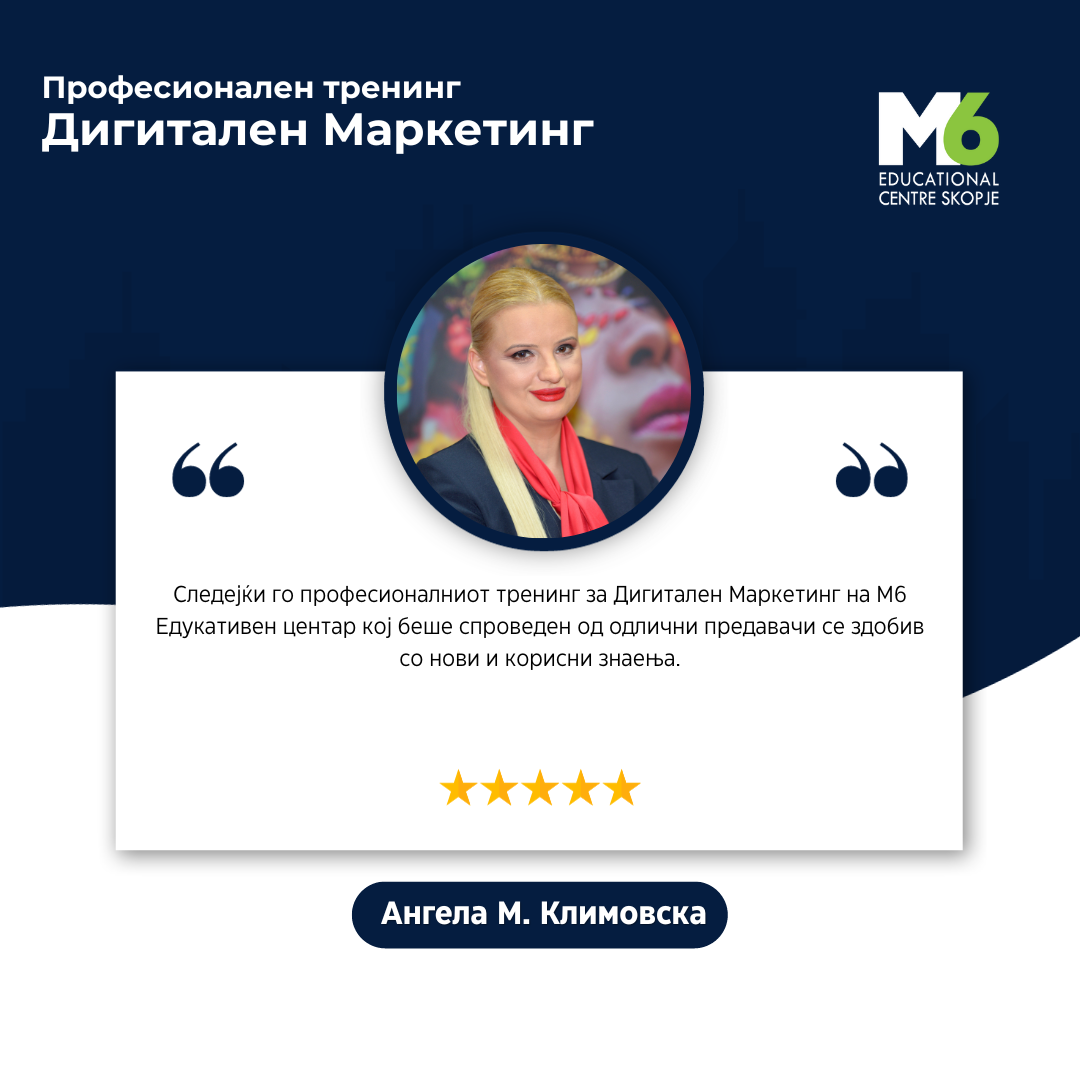 Цена на тренингот :

1950 ЕУР + ДДВ
(можност за плаќање на рати)
Во цената е вклучено:
11 модули

77 часа

Учење преку практична настава и анализа на вистински случаи

Менторство од најуспешните лидери во индустријата

Можности за вмрежување

Можности за вработување

Сертификат за завршен тренинг од М6 Едукативен Центар (сертификатот е признаен од најголемите македонски компании)

Обука за вино од Вински едукатор од страна на 'Тиквеш'
За повеќе информации, регистрирајте се тука :