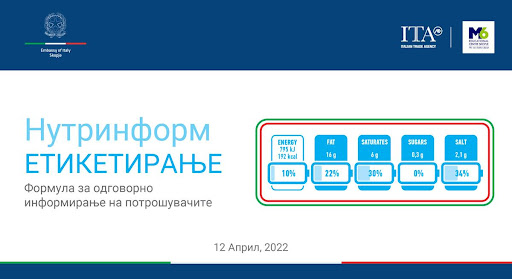 M6 Educational Centre in cooperation with the Italian Embassy in the Republic of North Macedonia organizes the third in a series of joint conferences, on the topic:
"Nutriform Labeling: Formula for Responsible Consumer Information"
Nutrinform is a labeling method that provides information about the nutritional value of food. It is an Italian model, proposed and elaborated as an alternative to the Nutriscore labeling.
Nutrinform, symbolically represented by the battery symbol, aims to provide consumers with a clear and complete information about the nutritional value of the product, thus informing them of its contents, which allows them to reasonably choose the food they consume. Each table is a quantitative indicator of the content of the product in a certain quantity (portion).
On the other hand, the French food labeling model, the Nutriscore, provides fast, refined information in five different colors to classify food products into five categories: category A (dark green), indicating the highest nutritional quality, and category E ( dark orange), indicating the lowest nutritional quality. This rating system seems to provide useful information, but it is calculated by awarding points for the content of 100 g, thus giving incomplete data, and the consumer cannot assess on the basis of what the products are rated.
Find out more and join the conference where eminent, world known names will speak.
"NUTRINFORM LABELING- SOLUTION FOR RESPONSIBLE INFORMING OF THE CONSUMERS"
12 April 2022
M6 Educational Centre